Jordan and his wife, Jenn, are proud to be able to give back to the community that melded the Bonicelli family. Led by their grandfather, Derito followed by Jordan's father Harold, and carried on by Jordan, Grant, and Douglas, the Bonicelli Family has been serving the Huerfano County Community for over a century. Derito loved this community and always led with his heart.  Serving as the mayor of Walsenburg, Derito Bonicelli led the charge as an ambassador for the community.  He participated in developing the civil aspects of the community, including initiating the first Old Timers Baseball program for youth and managing it for over 25 years. He was of an intelligent entrepreneurial mind starting and operating many businesses throughout the county. The Firestone dealership on Main St in Walsenburg and Misty Haven Cabins are his mainstays. The tire store remained in operation until Harold saw a local need for office space. He and his sons gave it a new identity and it has been home to St. Mary Credit Union ever since.
Thanks to their family's deeply rooted legacy in the community, Jordan and Jenn Bonicelli are proud to personally contribute to the well-being of Huerfano county.  As part of the Lokal Gives initiative, additionally, 5% of the profits from any business associated with the organization will be donated back into the community through any eligible 501C3 entity.
St. Mary's Church, Walsenburg, Colorado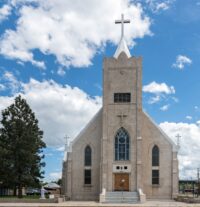 Lokal Gives has partnered with St. Mary's Church to assist with the undertaking of much-needed restoration and required maintenances. The Bonicelli Family has been part of the local St. Mary's Parish since the birth of our beautiful steadfast sanctuary in June of 1900. With over a century of service to this community, the church building deserves to shine.
La Veta Trails, Inc.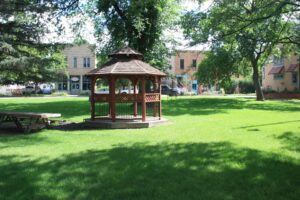 Jordan and Jenn are excited to support La Veta Trails, Inc. a non-profit established in 2015.  This organization is working to transform La Veta and surrounding areas into a healthier community by improving trails and outdoor community spaces, active transportation, conservation, and organized community events.  The Bonicelli family has committed to helping La Veta Trails improve the playground in La Veta's Town Park.
Two Peaks Fitness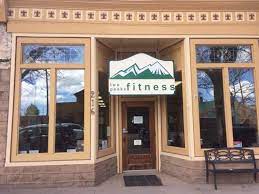 As long-time supporters of Two Peaks Fitness, Jordan and Jenn's philanthropic gifts have supported the non-profit's community outreach since 2016. Jordan was introduced to the group while they were challenged with ambitions of occupying a larger space. The move allowed Two Peaks to further extend their giving hand into the area.